High School Intern Program Feature – Anna Shepherd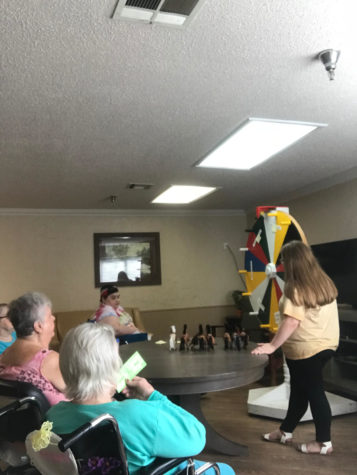 Anna Shepherd, a 11th grader at Howe High School, is an intern for Jackie Lillard at The Oaks. She interns the the 5th, 6th, and 7th hours of every day during the week. "Anna has benefited my business by being active in the activities and helps out a lot," Jackie Lillard said.
"Anna's internship has inspired her to pursue a career in Musical Therapy. Beautiful testimony," Cindy Mitchell, Howe Business Instructor.
Q; Who do you intern for? What is your schedule?
A; I intern for The Oaks Healthcare center in Poteau. I stay there from 1-3 pm Monday-Friday.
Q; Did you choose your placement? Why or why not?
A; Yes I did. This was my second choice. My first choice was a lawyer but no one wanted an intern so I chose The Oaks. I think I am having way more fun there than I would have at a lawyers office.
Q; In what ways has your internship had a positive impact on you as a student?
A; It has helped me learn how to have better social skills and how to work in an environment outside of school.
Q; What kind of work do you do at your internship?
A; I am an activities assistant and I help run all of the activities at a nursing home.
Q; How has the internship has prepared you for life after high school?
A; It has showed me that I want to go to college to become a music therapist after high school.
Q; What have you learned from your internship?
A; I have learned so much from the residents at the home. Most of them are always so happy and they have taught me that there is always a reason to smile and be thankful even in the worst situations.
Q; What advice would you give other students about the internship, that are thinking about internship?
A; I would say that if there is something you are passionate about then you should find an internship in that area of work because it is an amazing program to be in.
Q; What has been the most challenging part of being an intern?
A; There are some days at the home where residents are upset and just not having a good day or they tell you sad stories and I think it really is hard to try not to let that make you sad or upset because you have be a ray of light and happiness for all of the residents.
Q; Is there anything else you would like to share about your internship?
A; I just really love what I am doing and I look forward to going everyday!