High School Intern Program Feature – Hayli Baxter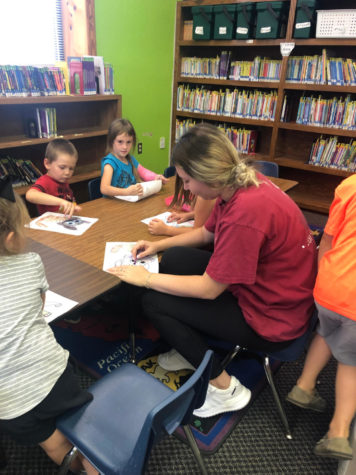 Hayli Baxter, a 12th grader at Howe High School, is an intern for Karen LaRosa at Monroe School. She interns the 6th and 7th hours of every day during the week. "Hayli has discovered a love for young children at Monroe Schools and wants to make of career in education," Cindy Mitchell, Howe Business Instructor.
Q: In what ways has your internship had a positive impact on you as a student?
A: It has made me more patient with other people.
Q: What kind of work do you do at your internship?
A: I aid for Pre-k, I mostly just help them with anything they need help on.
Q: Did you choose your placement? Why or why not?
A: yes, I chose my placement because i was thinking about going into teaching and thought that it would be a good opportunity to see if it's something I would like to do.
Q: Who do you intern for? What is your schedule?
A: Monroe Public Schools, 12-3
Q: How has the internship has prepared you for life after high school?
A: [The Internship program] has helped me learn that I have to be consistent with my attendance because people are counting on me to be there.
Q: What have you learned from your internship?
A: Mostly just how to have patience with people because you never know what is going on outside of school.
Q: What advice would you give other students about the internship, that are thinking about internship?
A: To definitely dos it, It's been a good experience for me.
Q: What has been the most challenging part of being an intern?
A: Having to clean up throw up and pee.
Q: Is there anything else you would like to share about your internship?
A: I'm glad that that the schools is allowing us to have this opportunity.