High School Intern Program Feature – Nayeli Lopez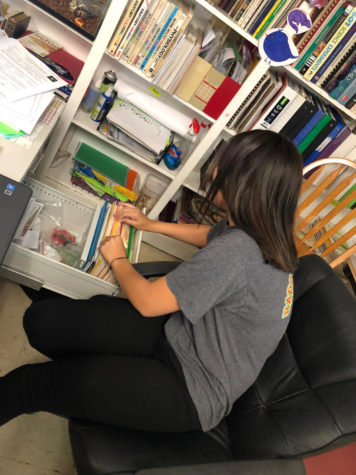 "Naylei loves being with Ms. Wise's 2nd grade students. Your love for children shows." Cindy Mitchell, Howe Business Instructor.
Q; Who do you intern for? What is your schedule?
A; Ms. Wise in second grade and also for Mrs.Cooper in the high school. I intern for the last three hours of school.
Q; Did you choose your placement? Why or why not?
A; Yes. I always had enjoyed Ms. Wise and Mrs. Cooper as my teachers, and I think it's a way of their understanding and patience and that intrigues me.
Q; In what ways has your internship had a positive impact on you as a student?
A; I've learned to go after what I want and that I don't have to always be sure of it. I have a life ahead of me.
Q; What kind of work do you do at your internship?
A; Grading and assisting with students.
Q; How has the internship has prepared you for life after high school?
A; It has me at an understanding I have plenty of years to decide what I for sure want to major in as oppose to choosing a major I'm unsure of and pursuing that and wasting my time.
Q; What have you learned from your internship?
A; I have learned more about growth within myself and how to be a better person and to take what wisdom I get and put it to use.
Q; What advice would you give other students about the internship, that are thinking about internship?
A; Internship is a great way to get more of a head on idea of what major you're interested in.
Q; What has been the most challenging part of being an intern?
A; Learning to be patient with children who don't take the time to listen but proceed to try and ask for help.