High School Student Intern Feature: Kaleb Brown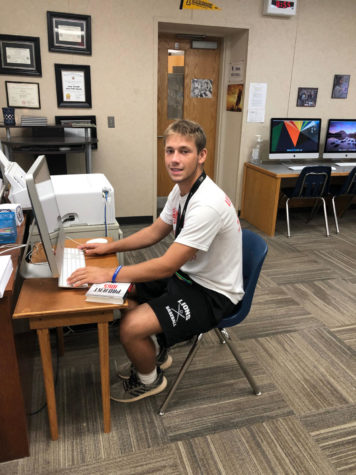 Kaleb Brown, a 12th grader at Howe High School, is a student intern for Mrs. Cindy Mitchell, HS Business Instructor. He interns the first hour of every day during the week.  Mrs. Mitchell notes, "One of Kaleb's great qualities are willingness to perform tasks."
Q: Who do you intern for? What is your schedule?
A: Mrs. Mitchell. I start at 8:00 a.m. and end at 9:00 p.m.
Q: What kind of work do you do at your internship?
A: I learn about teaching skills and help other students.
Q: Did you choose your placement? Why or why not?
A: Yes. I wanted to learn about teaching.
Q: In what ways has your internship had a positive impact on you as a student?
A: It helps me with time management and it gives me a strong sense of responsibility.
Q: How has the internship has prepared you for life after high school?
A: It helps me narrow my choices of careers down.
Q: What have you learned from your internship?
A: That teaching is stressful but worth it.
Q: What advice would you give other students about the internship, that are thinking about internship?
A: I would tell them to absolutely go through with it. It will help you tremendously in career preparation.