High School Intern Program Feature – Tyler Townley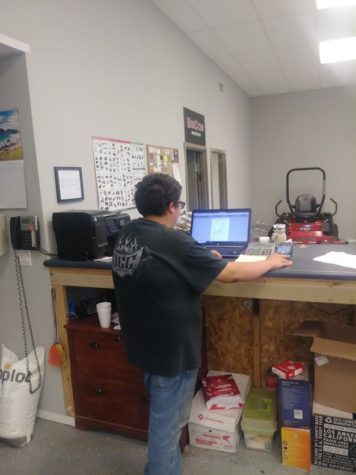 "Tyler works very hard getting rentals cleaned up and check out for Mitchell Rentals. Great effort," Cindy Mitchell, Howe Business Instructor.
Q; In what ways has your internship had a positive impact on you as a student?
A; I got to meet new people, and I got to learn new things, and how much work it takes to run a business.
Q; What kind of work do you do at your internship?
A; I order parts on the computer and help customers. When I'm done I will clean the equipment.
Q; Did you choose your placement? Why or why not?
A; Yes, I chose my placement, because I am in automotive and this has something to do with automotive.
Q; Who do you intern for? What is your schedule?
A; I intern, because I believe this will give me a good foundation to learn new things for the future a head. I go to my internship in the afternoon I stay there from 2:50 to 3:00.
Q; How has the internship prepared you for life after high school?
A; My internship has showed me what to expect after high school
Q; What advice would you give other students about the internship, that are thinking about internship?
A; To definitely take it, you won't regret it. You get to learn new things and get to experience a sense of adult hood.
Q; What have you learned from your internship?
A; I got to learn how hard it is to run a business.
Q; What has been the most challenging part of being an intern?
A; Gas for your vehicle you have to pay for your own gas.
Q; Is there anything else you would like to share about your internship?
A; Not really, but if I have to say something I would say take the leap and go for it. You won't regret it, this will definitely build a great foundation for the future. And hey you never know you may like it.