High School Intern Program Feature – Destiny Francis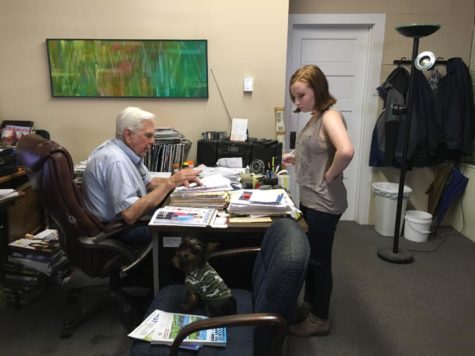 Destiny Francis, a 12th grader at Howe High School, is an intern for Wayne Gunn at Wayne Enterprises. She interns the first and second hours of everyday during the week. "Destiny has learned two new computer software programs during her internship at Mark It Place and Wayne Enterprises," Cindy Mitchell, Howe Business Instructor.
Q: Who do you intern for? What is your schedule?
A: Karen at the mark it place 9:00-10:30
Q: Did you choose your placement? Why or why not?
A: [Yes], I wanted to do something that involves art so Mrs. Mitchell transferred me to the mark it place.
Q: In what ways has your internship had a positive impact on you as a student?
A: It teaches me about the real world and how to run a business.
Q: What kind of work do you do at your internship?
A: I design t-shirts and learn how to run a business.
Q: How has the internship prepared you for life after high school?
A: [My work as an Intern] has shown me how to get ready [for life after high school.] [It has also taught me] what all to expect when I'm out in the real world, like how to do taxes and how much money I'll be making by choosing graphic design [as a career.]  [I have also learned] what people will expect of me as an "adult."  I have to start acting the part and work for what I want.  [For example], if I want to get into college, I have to show them I can put in the work and time.  The internship is like a smaller version of that.  If I want a good grade, I have to show up and do my part.
Q: What advice would you give other students about the internship, that are thinking about internship?
A: Do it! It's something new and different and it looks amazing on a college resume, and if you're not going to college you still need to do it if you are lucky after school's over they might want to hire you.
Q: What have you learned from your internship?
A: [I have learned] how to get out of my comfort zone and work with people. [I have also learned] how to get started and finish something and to be confident in what I say and do.  [Also], how to present myself to the customer, a firm hand shake is good and [to] stand up tall and confidently.
Q: What has been the most challenging part of being an intern?
A: Meeting new people and having to socialize with people you never have met before and trying not to mess up and it's ok to mess up they don't expect you to know everything.
Q: Is there anything else you would like to share about your internship?
A: I have fun doing what I do at my internship and if you are smart about it you can get a couple extra hours of sleep if you do the internship in the morning depending on where the internship is and what you'll be doing mine is in downtown Poteau, and it doesn't open till 9 am, so i don't have to wake up till 7 am.  It gives me enough time to get ready and eat and sleep in.